07.09.22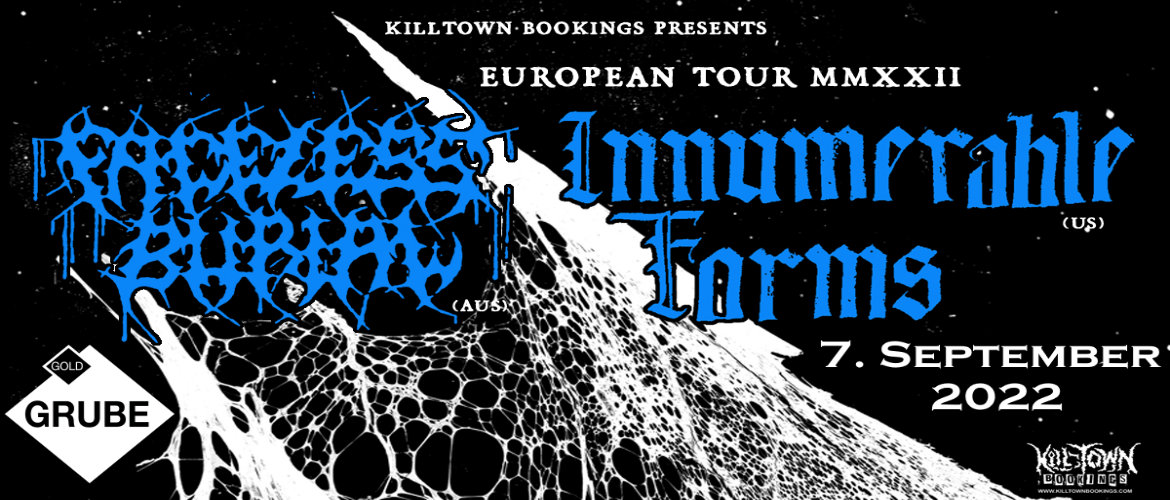 Tickets für
Faceless Burial + Innumerable Forms

07.09.22 in Kassel, Goldgrube
Tickets zu Faceless Burial + Innumerable Forms
Kassel
---
Informationen

FACELESS BURIAL

Australia – Iron Lung Records/Me Saco Un Ojo
• https://facelessburial.bandcamp.com
• www.facebook.com/facelessburial/
• https://youtu.be/JSWSqcO07TQ
Formed in Melbourne, Australia in 2014 - Faceless Burial's blueprint is to execute ripping, powerful and dynamic death metal.
Sonically, traces of Faceless Burial's influence can be heard in the long heralded classics from Americas East Coast, Canada and Finland. However, it would be remiss to ignore the bands connection to Melbourne's current crop of brutal acts (Contaminated, Vile Apparition, Gutless, Incinerated, Ignivomous, Headless Death, Cemetery Urn, Sewercide etc) and Australia's long running landscape of extreme music (Disenbowlment, Crypt, Star Gazer, Necrotomy, Corpse Molestation, Misery etc).
Themes of hallucinogenic Sci Fi-butchery and nightmarish phantasm's confront breakneck speeds. Blasts fold into squalid breakdowns as the music plays between harmony and ferocity.
The three piece released a demo in 2015, followed by 2017's debut album "Grotesque Miscreation" released by Blood Harvest in Europe and Iron Lung records across the US. This was followed up quickly in 2018 with the MLP titled "Muliversal Abbatoir" forging a new bond with Me Saco Un Ojo records. As we start a fresh decade Faceless Burial enter the studio to begin working on their anticipated sophomore album.
Quotes:
"A far fresher take on death metal than almost everything from the more dissonant or technically oriented crowds." - Toilet Ov Hell
"Intrepid brutality inspired by the New York old school death metal scene of the late 80's/early 90's is complimented by considerable talent for the twisted death/thrash riffing of that same era. None of that would be particularly notable if their music wasn't entirely willed into form through inspired riffcraft and succinctly delivered song structures." GrizzlyButts
"Being rooted in the old school, yet not sounding dated in any way, Faceless Burial are able to transport your feelings to that time of early to mid '90' bliss, when death metal was still pretty fresh and genuinely exciting in its unknown nature." - Teeth of the divine
"Faceless Burial continue to traffic in swampy, cavernous death metal; riffs don't feel sharp and clean, but rather like primitive, blunt objects to the head. The vocals sound as if they were recorded in a cave and dark melodies and leads flesh out the claustrophobic death." - Decibel Magazine.

INNUMERABLE FORMS

USA – Profound Lore Records
• https://innumerableforms.bandcamp.com
Boston's Innumerable Forms were formed in 2007 as a one man project to bring forth a vision of doom-ridden, dark brutal death metal with the spirit of the early '90s. Soon after forming, a full band line up was assembled featuring current and ex members of Iron Lung, Mammoth Grinder, Mind Eraser, Sumerlands, Magic Circle, Power Trip, Genocide Pact, and many more. Since inception Innumerable Forms have already generated quite the cult following over the years with their live shows supporting a repertoire only consisting of the "Dark Worship" 7"EP, a split with Blessed Offal, and the "Frozen To Death" comp cassette. In 2018, they released their first full length, entitled "Punishment In Flesh" on Profound Lore Records. With influences ranging from primitive early 90's Finnish death metal to British and American doom, Innumerable Forms harness the authentic feeling of misery, darkness, and fury with total disregard for the scene today.
Review quotes:
"2018's best Death/Doom"
-CVLT Nation
"This first album proper...is neither naïve nor ill-produced. Instead, this might be one of the genre's most primitive yet most concise and crushing incarnations in years. "
-Metal Hammer
"(Innumerable Forms) make thick and impenetrable death metal that's desolate and filled with tension."
-Pitchfork
"Punishment in Flesh is a reflection of idyllic death doom, and everything from the songwriting to the production exacts a standard of excellence that only furthers the band's efforts to crack the planet in twain."
-Exclaim!