10.11.22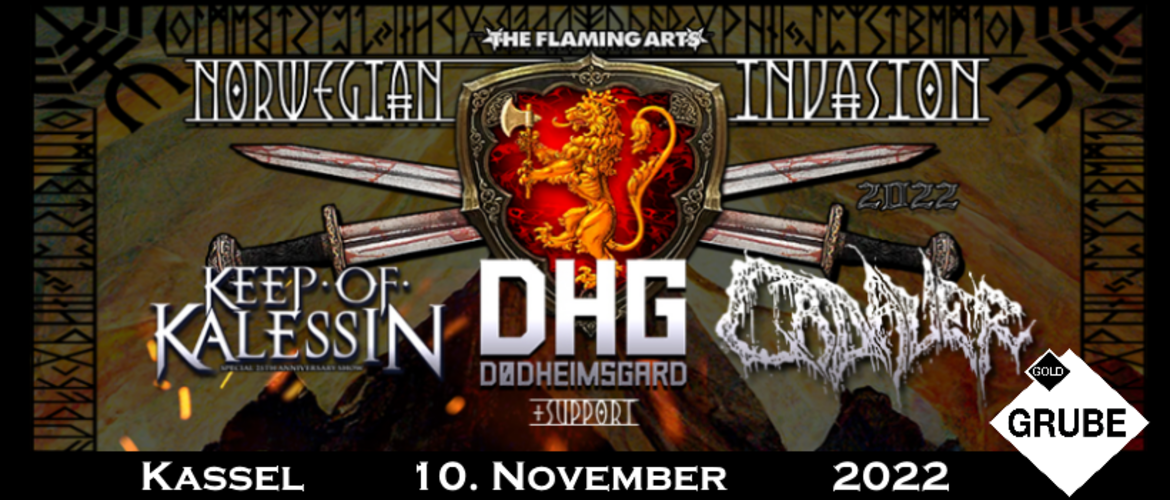 Tickets für
Keep of Kalessin + Dodheimsgard + Cadaver + Bornholm + Temple of Evil

10.11.22 in Kassel, Goldgrube
Tickets – Keep of Kalessin + Dodheimsgard + Cadaver + Bornholm + Temple of Evil
Kassel
---
Informationen
🔥 BEHOLD THE NORWEGIAN INVASION 🔥
Emerging from cold, darkness, and cradle of metal, three bands have teamed up to bring the true Norwegian Invasion onto European grounds this fall: Keep of Kalessin, Dødheimsgard, and Cadaver.
Unaffected by storms and challenges, Keep of Kalessin has gained a merit list few other metal bands have managed. This includes includes #2 on the Norwegian charts, #3 in Norwegian Eurovision and 2 Norwegian Grammy award nominations as well as countless top reviews and hundreds of shows all across the world. Prepare for extreme, epic, and otherworldly metal at their special 25th anniversary show on this tour.
Starting out as a pure black metal band, Dødheimsgard (also known as DHG) eventually incorporated more electronic, industrial, and experimental elements into their music until they resembled nothing like what they started as, which makes their sound absolutely unique. Do not miss the avant-garde extreme metal from the Norwegian Realm of Death.
Anders Odden's original, extreme metal vision combined with Dirk Verbeuten (Megadeth/ex-Soilwork) drumming and musical companionship resulted in Cadaver's bold resurrection. Back with a vengeance and hell-bent on destruction, the band is back in business, ready to reign and reproduce their revitalized ferocity on the live stage.
Hungarian black/pagan metallers Bornholm will support the mighty Norwegian trio on the entire tour leg, while the Iranian five-piece protest act Confess and the Cyprus-based heretic black metal Temple of Evil will open the bill on selected dates.
👉 www.facebook.com/keepofkalessin
👉 www.facebook.com/DODHEIMSGARD
👉 www.facebook.com/cadavertheband
👉 www.facebook.com/bornholmofficial
👉 www.facebook.com/templeofevilband
Keep of Kalessin 'Epistemology' Full Album 2015 https://www.youtube.com/watch?v=ZmrHfYMfM6g&list=PLtcvoByvRYsNiqlADFSdI7b3ZU5ScYqYy
Keep of Kalessin 'Reptilian' Full Album 2010 https://www.youtube.com/playlist?list=PLTxuPYjGQuol6wt4IHmGGPqWMtav3r-Qo
Keep Of Kalessin - Armada - Full Album 2006 https://youtu.be/f3z-nR26oaQ
Keep Of Kalessin - Kolossus - Full Album 2008 https://youtu.be/-vJJTyfhPbw
Keep Of Kalessin - Agnen: A Journey Through The Dark - Full Album 1999 https://youtu.be/IYhiFcfe4Dc
DHG / Dødheimsgard - A Umbra Omega (Full Album) https://youtu.be/aCFEETZX3SY
Dødheimsgard - 666 International (Full Album) https://youtu.be/wy-8hFuYeIA
Dødheimsgard - Kronet Til Konge (Full Album) https://youtu.be/6cKJQ5gWhOk
Dødheimsgard (DHG) - Supervillain Outcast (Full Album) https://youtu.be/KPk8guCxClw
Cadaver - Edder & Bile (2020) [Full Album] https://youtu.be/XEy7MIBHoX4
Cadaver - Necrosis [Full Album] (2004) https://youtu.be/tsyu6FEkQjE
Cadaver - ...In Pains [Full-length Album] 1992 https://youtu.be/2yAUutxwUCM
Bornholm - Primaeval Pantheons Full Album https://youtu.be/GQyJBK7WDLM
Bornholm - On The Way Of The Hunting Moon [FULL ALBUM] https://youtu.be/0HpjJOnipoE
Bornholm - March for Glory and Revenge (Full Album) https://youtu.be/sR31wP_fpGg
Bornholm - Inexorable Defiance (Full Album Limited Edition) https://youtu.be/vnDjEN3THZA
Temple of Evil - Apolytrosis (full album) 2021 https://youtu.be/fV6wuVOKPKI
Temple of Evil - The 7th Awakening (Full Album) https://youtu.be/9yrJg-P5mk0