04.05.22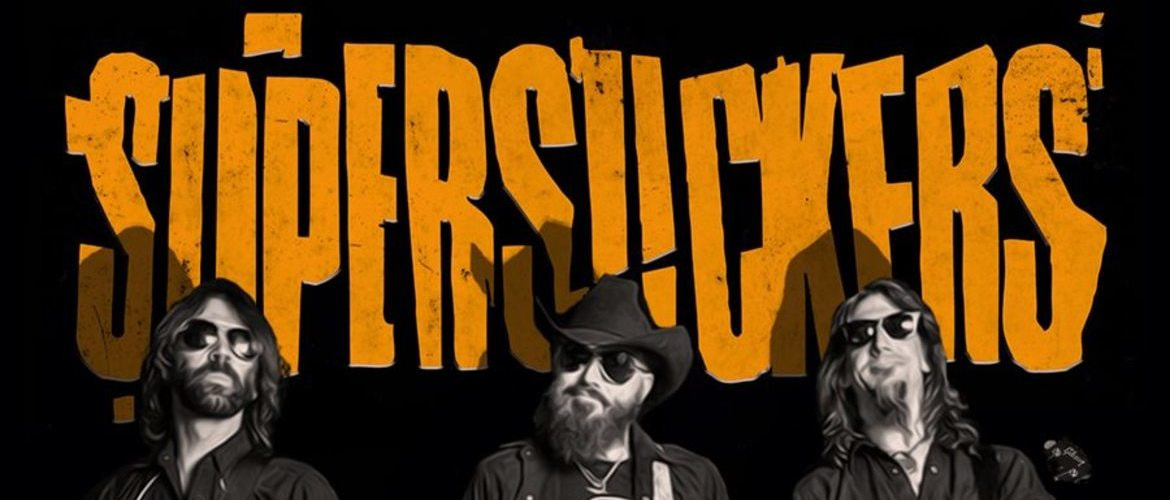 Tickets für
SUPERSUCKERS + THE CUTTHROAT BROTHERS

04.05.22 in Kassel, Goldgrube
Tickets – SUPERSUCKERS + THE CUTTHROAT BROTHERS
Kassel
---
Informationen
SUPERSUCKERS (USA)
Punk Rock / Country Legende aus Seattle - "The greatest Rock'n'Roll band in the world!"
Eddie Spaghetti is back!
Die Supersuckers gründeten sich bereits 1988 und veröffentlichten ihr erstes Album "The Smoke of Hell" 1992 auf Seattle's Sub Pop Label. Die bis dahin lediglich Punkrock spielende Band schlug mit ihrem 1997 erschienenen Studioalben "Must've been high" Country Töne an. Bis 1999 blieb die Band bei Sub Pop, danach gründete die Band ihr eigenes Label Mid-Fi Recordings.
Mit mittlerweile insgesamt 30 Jahren auf dem Tacho feiert die selbsternannte "Greatest Rock´n`Roll Band in the World" ihr Jubiläum mit dem brüllend lauten "Suck It". Das zwölfte Studioalbum der Supersuckers zeigt ein vom ersten Ton an rücksichtsloses, rigoros ablieferndes Trio, das wie eine Reinkarnation von Motörhead klingt und Lemmys Aura durch die krächzende Stimme seines Frontmannes weiterleben lässt: "You said to grab it, just hook or stab it, and now I gotta have it – all of the time."
Nach Ausflügen in die Cowboy und Country Gefilde in den letzten Jahren sind sie mit rotzigem Rawk 'n' Roll zurückgekehrt, mit hocherhobenem Mittelfinger und dem typischen Supersuckers Sound – ein bisschen Country und jede Menge Motörhead. Keine Band ist cooler als die Supersuckers. Und der RocknRoll Zug der Band tuckert unermüdlich durch die Welt. Unzählige Touren haben sie auf dem Buckel. Inzwischen als Trio unterwegs, werden sie die Fans auch 2020 mit einer Europatour erfreuen. Songs vom neuen Album, alte Klassiker und ein oder zwei Country Songs gehören zum Programm. Und jede Menge Coolness.
"The greatest American underground rock band of the last 25 years." Classic Rock Magazine
"If you don't like the Supersuckers, you don't like Rock-N-Roll." Lemmy
"They played my birthday party. They rock!" Eddie Vedder from Pearl Jam
Videos:
"Get The Hell" 2014 https://youtu.be/5UI0GDhOaUM
"Pushin' Thru" https://www.youtube.com/watch?v=-PmOc3ZDxqU
Bloody Mary Mornin' https://www.youtube.com/watch?v=nomS6kdI1CI
Dead Inside https://www.youtube.com/watch?v=-RSfSzJie7o
Support:
THE CUTTHROAT BROTHERS (USA)
https://www.cutthroatbrothers.com/
https://www.facebook.com/thecutthroatbrothers
The Cutthroat Brothers bring a bloody and brash brand of garage punk blues compared often and fondly to The Gun Club, The Cramps, X, and Nick Cave. Both men are barbers, with Donny Paycheck clipping wigs in Tacoma, WA and Jason Cutthroat doing the same in Kona on the Big Island of Hawaii.
Videos:
https://www.youtube.com/watch?v=Xu1McejK5RE
https://www.youtube.com/watch?v=M9ZkIksYQf0...
https://www.youtube.com/watch?v=vVWvzLTN3Tg