19.10.22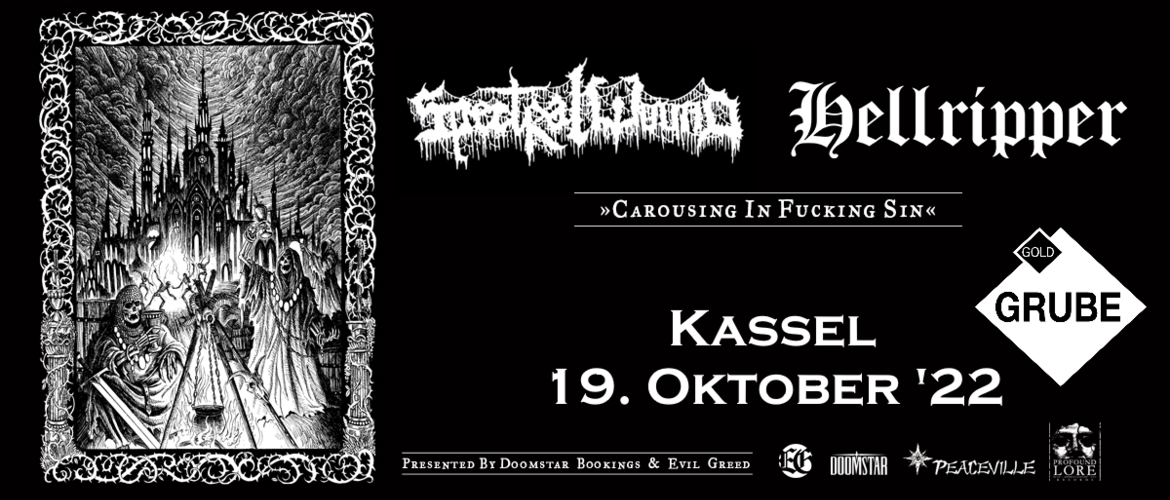 Tickets für
Spectral Wound + Hellripper

19.10.22 in Kassel, Goldgrube
Tickets – Spectral Wound + Hellripper
Kassel
---
Informationen
🔥 Spectral Wound 🔥
Spectral Wound play black metal, unadulterated and unadorned. Against the grain of both atmospheric and militaristic strands of the genre, Spectral Wound carves a space beyond the fetish of nature or the puerile romance of power. Without God, without Satan, without Odin, without nation, without transcendence, without essence. Spectral Wound channels the horrors of the flesh and the violence of the spirit, deformed under the weight of history, poised on the brink of a whirling void.
Bio:
[Jonah Campbell, Patrick McDowall, Illusory, Sean Zumbusch, Samuel Arseneau-Roy]
Spectral Wound formed in 2014 in Montreal, Québec, as a vessel of self-negation and existential dread, melding the raw fury of traditional black metal with the melodic sensibilities of Finnish and Québécois BM. After the departure of lead guitarist Mike Kirkenbranssar following 2015's Terra Nullius, Spectral Wound expanded their lineup with the addition of guitarists Patrick McDowall and Sean Zumbusch, developing and refining the band's sound on the monumental Infernal Decadence (2018). With the recruitment of Samuel Arseneau-Roy on bass in 2019, the band went on to release A Diabolic Thirst in 2021, a further distillation of the ferocity and towering, exultant melancholy that is Spectral Wound.
https://spectralwound.bandcamp.com/
https://www.facebook.com/spectralwoundcontramundi
🔥 HELLRIPPER 🔥
Labelled "Scotland's King of the arcane mosh" by Metal Hammer magazine, Hellripper aims to invoke the quintessential "black 'n' roll" sound, mixing influences from classic 80's black metal records with a more modern edge. Heavily inspired by witchcraft and the supernatural, Hellripper is also deeply rooted in its Scottish origins, using the landscape and historical events as a backdrop for its lyrics and imagery. Hellripper is fast, loud and uncompromising.
All hail the goat!
Bio:
Hellripper is a one-man black/speed metal band formed by James McBain and based in the Scottish highlands. Formed at the end of 2014 and with the release of the debut EP 'The Manifestation of Evil' at the start of 2015, the band have made their statement clear... Total fucking mayhem!
2015 and 2016 saw the release of an EP and a couple of split EPs to positive reviews in the underground as well as the assembly of a live line-up. The band's debut album 'Coagulating Darkness' was released in April 2017, resulting in Metal Hammer crowning Hellripper "Scotland's King of the arcane mosh".
2018 saw the band sign to US-based 'Reaper Metal Productions' - a division of 'Hells
Headbangers Records' and the release of a 4-track EP in April 2019.
At the end of 2019, the band signed a deal with 'Peaceville Records' for the release of their second album 'The Affair of the Poisons' in 2020, which again, was also released to great reviews and led to the band's first appearance on the US Billboard Charts.
Website: https://www.hellripper.com/
Bandcamp: https://hellripper.bandcamp.com/
Facebook: https://www.facebook.com/hellripper1