07.11.22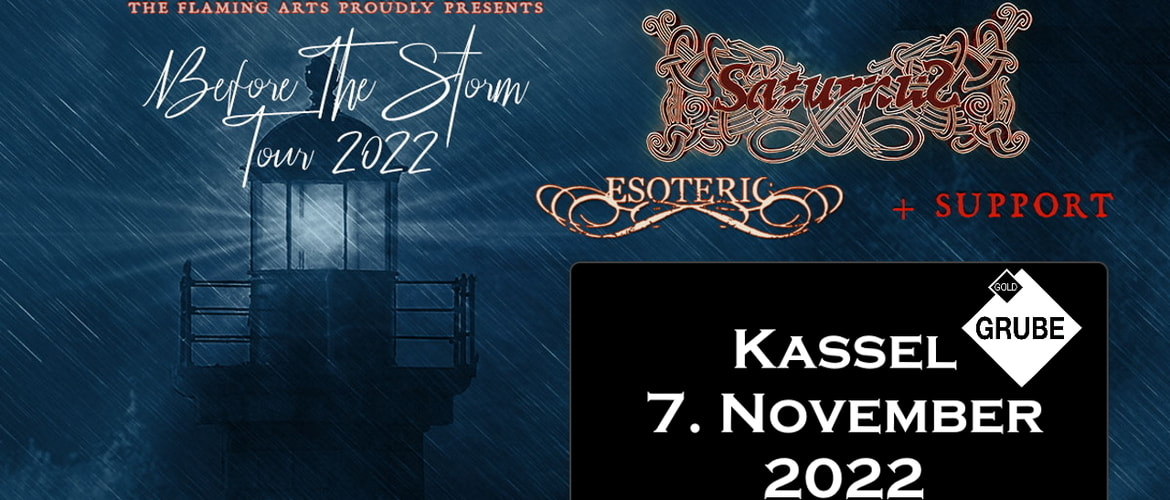 Tickets für
SATURNUS + ESOTERIC

+HEVELORN +WHEN NOTHING REMAINS +POEMA ARCANUS 07.11.22 in Kassel, Goldgrube
Tickets – SATURNUS + ESOTERIC
Kassel
---
Informationen
SATURNUS ANNOUNCE A EUROPEAN TOUR IN SUPPORT OF THEIR NEW ALBUM
The Danish doom metal prophets SATURNUS are hitting the road for the European tour. The British band ESOTERIC who are considered one of the founders of funeral doom metal will join SATURNUS on this tour leg.
Since their record "Saturn in Ascension", SATURNUS went through years of extensive touring and several lineup changes. For the first time since 2012 and through much turbulence the band has returned to remain stronger than ever! Saturnus are ready for the next stage to come before the storm, letting the lighthouse shine over the rough waters and guide them onwards, being true connoisseurs of melancholic doom metal.
For thirty years ESOTERIC has been pushing the limits of sonic intensity. From the mind-bending darkness of their 90's double albums Epistemological Despondency and The Pernicious Enigma, to the expansive epics found on their recent opuses The Maniacal Vale and Paragon of Dissonance, they have never compromised their initial aim – to unleash aural mayhem on unsuspecting listeners.
Late 2019 sees the release of their most accomplished work to date, A Pyrrhic Existence. It is a culmination of 27 years of uncompromising dedication to their craft - detailed and layered compositions and a high level of musicianship, foreboding production, and equal measures of utter darkness and melodic diversity.
Doom metal fans, save November for your eyes and ears, and don't miss this!
👉 www.facebook.com/esotericukofficial
👉 www.facebook.com/saturnusofficial
❗ Special Guests UPDATE ❗
🔥 HEVELORN
-Doom Metal- aus Spanien
https://www.facebook.com/helevornband
https://helevornofficial.bandcamp.com/
https://open.spotify.com/album/3nBc5nJzyjANZ3IJhqxspa

🔥 WHEN NOTHING REMAINS
-Gothic/Doom/Death Metal- aus Schweden
https://www.facebook.com/whennothingremainsofficial/
https://whennothingremains.bandcamp.com/
https://www.instagram.com/whennothingremainsofficial
https://open.spotify.com/artist/4ZYfJQ4ifRU9q4zGCY9cLJ

🔥 POEMA ARCANUS
-Death/Doom Metal- aus Chile
https://poemaarcanvs.bandcamp.com
https://www.facebook.com/PoemaArcanvs