04.09.23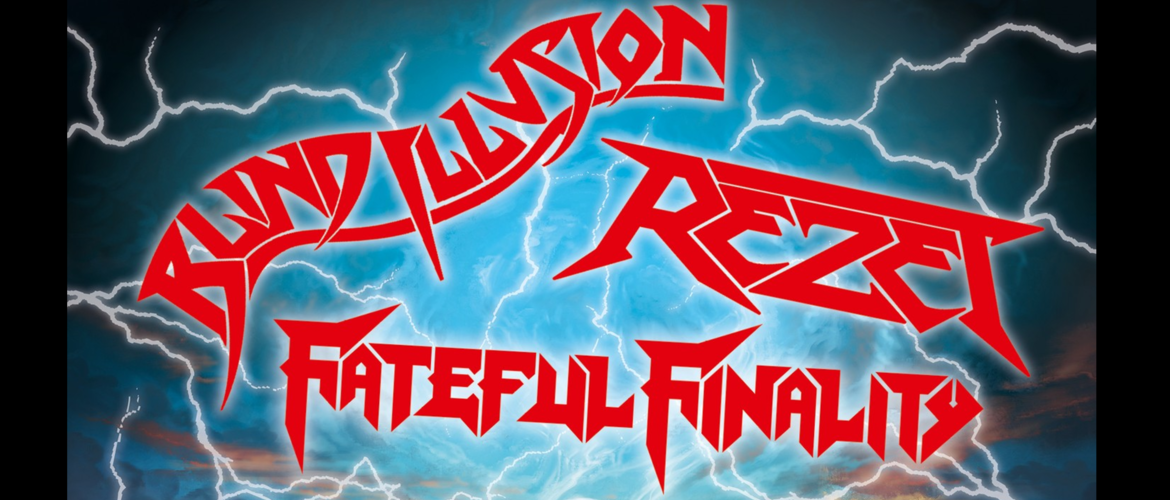 Tickets für
BLIND ILLUSION + REZET + FATEFUL FINALITY

04.09.23 in Kassel, Goldgrube
Tickets – BLIND ILLUSION + REZET + FATEFUL FINALITY
Kassel
---
Informationen
🔥 BLIND ILLUSION 🔥
The Bay Area Legends BLIND ILLUSION (with ex members from Heathen, Possessed, Primus and current members from ex-Heathen and ex-Death Angel) will be back in Europe 2023.
Blind Illusion was formed by-15 year old Mark Biedermann, along with drummer Bret Hern and bassist Les Claypool (PRIMUS!). The band's earliest sound had been musically rooted as progressive metal, with Biedermann citing as his main inspirations Rush, King Crimson, Led Zeppelin, Black Sabbath, Van Halen and Jethro Tull. However, external input from later musicians, many with ties to the Bay Area thrash scene would add a Thrash Metal direction to the band. In 1983 live recordings traded by fans with songs like "Death Noise", "Darkness", "Kamikaze", "World That's an Illusion", "Helter Skelter (Beatles)", and "Concerto" were part of their set list. Blind Illusion had already released 2 demos by 1983. During this period, Blind Illusion played extensively with bands such as Exodus, Testament, Death Angel, Metallica and Possessed playing shows throughout the area throught the 80's. Mark Biedermann took over vocal duties in place of former singer Dave White who left the band to join Heathen and released a third demo Trilogy of Terror that was produced by Metallica`s guitarist Kirk Hammett.

Blind Illusion was touring and recording new music in 2019.
Fronted by the band creator Mark Biedermann on Lead Guitar and Vocals, and featuring Doug Piercy of Heathen and Anvil Chorus on Dual Lead Guitar. With rock solid Bay Area music scene veterans Erik Cruze on the Drums and Tom Gears on Bass. Blind Illusion would like to thank our record label World in Sound Music and Thomas Tegelhutter of Head Bangers Open Air Festival for bringing the band to play in Europe for the first time in history in 2017. Due to rave reviews at the HOA, Oliver Weisheimer brought the band back to Europe to perform at the Keep it True Festival in 2018 for another epic show. With brand new songs and an EP we are once again heading back to Europe to play the Heavy Metal Maniacs Festival in the Netherlands this coming 21st September 2019!
NEW RELEASE • Blind Illusion - Wrath of the Gods on 7 october 2022
Straight as the Crowbar Flies
Slow Death
Protomolecule
Spaced
Wrath of the Gods
Behemoth
Lucifer's Awakening
Amazing Maniacal Monolith (CD Bonustrack)
No Rest 'til Budapest (CD Bonustrack)
Formats: CD/LP
CD UPC: 8715392224829
LP (Black vinyl) UPC: 8715392224812
LP (Silver/Purple Merge vinyl) UPC: 8715392824814
LP (Clear/Purple/Bone White Splatter vinyl) UPC: 8715392724817
Cat No: HHR2022-48
Genre: Rock / Metal / Thrash Metal •• For fans of: Exodus, Heathen, Death Angel, Metallica, Toxik, Xentrix
https://www.blindillusion.com/
https://www.facebook.com/blindillusionofficial/
https://www.instagram.com/blindillusionofficial/
https://www.youtube.com/results?search_query=blind+illusion
https://open.spotify.com/artist/1PG70lSR2xGgNJdP20p69K
https://blindillusion.bandcamp.com/music
Supports:
🔥 FATEFUL FINALITY 🔥
🔥 REZET 🔥
Seit ihrem Debut-Album "Have Gun, Will Travel" (2010) liefern die Schleswig-Holsteiner feinsten Thrash Metal mit leichter Rock'n'Roll-Attitüde und Punk-Referenzen. Diese gelungene Mixtur aus rasiermesserscharfen Riffs, treibendem Groove und eingängigem Gesang, sticht aus dem Thrash-Einerlei definitiv hervor, sodass sich die Combo schnell von einem Underground-Tip zu einem weltweit tourenden Act avancierten konnte.Trotz verschiedener Line-Up-Wechsel, haben sich REZET mit ihrer Musik verlässlich und konstant in die oberste Metal-Liga katapultiert und dort bereits mit bislang fünf Studioalben, zwei EPs und einer DVD ihren Standpunkt verwurzeln können.Chefdenker und einzig verbliebenes GründungsmitgliedRicky Wagner, gelingt es mit seiner aktuellen Besatzung auf Anhieb, das Flaggschiff auf Kurs zu halten.Mit präzise vorgetragener Spielkunst, kredenzen REZET reichhaltiges MOSH-Futter mit norddeutschem Gütesiege,
REZET sind:
Ricky Wagner – Gitarre, Gesang
Bastian "attt" Santen – Schlagzeug
Lorenz Kandolf – Bass
Nikolay Atanasov – Lead Gitarre
Discographie:
2010: Have Gun, Will Travel2012: Civic Nightmares2015: End Of A Decade (DVD)2016: Reality Is A Lie2017: You Asked For It… (EP)2019: Deal With It!2021: Truth In Between2022: New World Murder (EP)
https://www.facebook.com/rezetband
https://www.instagram.com/rezet_official/
https://www.youtube.com/user/RezetOfficial
https://open.spotify.com/artist/6mEsJPMfmOwRLP3NZGXYg2