01.06.23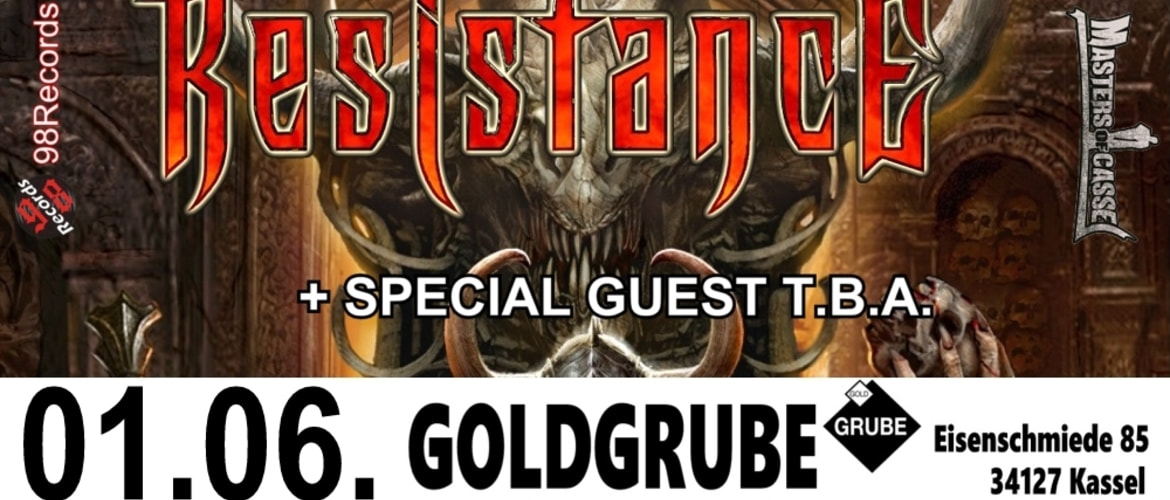 Tickets für
RESISTANCE

+Special Guest 01.06.23 in Kassel, Goldgrube
Tickets – RESISTANCE
Kassel
---
Informationen
Masters of Cassel und 98Records präsentieren :
RESISTANCE (USA) European Tour 2023 + Support live in der Goldgrube in Kassel
Schon 2019 spielte die Traditional Heavy Metal Band RESISTANCE in der Goldgrube, damals noch als Support von VISIGOTH und BEWITCHER. Nach dem super erfolgreichen Werk "Skulls of my Enemy" aus 2022 kommen sie nun auf ihre erste eigene Europa-Tour und spielen neben einigen Festivals auch ein paar ausgewählte Clubshows - und beehren damit Kassel wieder. Die fünf Musiker aus Los Angeles zocken klassischen Heavy Metal in the Veins of JUDAS PRIEST, MANOWAR und SAXON mit einigen US-Metal Einflüssen und zeigen eine schweißtreibende Metalshow. Wir freuen uns sehr Euch die Classic Metal Band anbieten zu können.
Eine Support-Band wird noch bekannt gegeben. Einlass 20 Uhr, Beginn 20.30 Uhr.
https://www.facebook.com/resistanceusaofficial
https://www.instagram.com/resistanceusaofficial/
https://twitter.com/resistance_usa
https://www.youtube.com/channel/UC9uuxdE-JTwau-OyEzVg1rA