23.06.23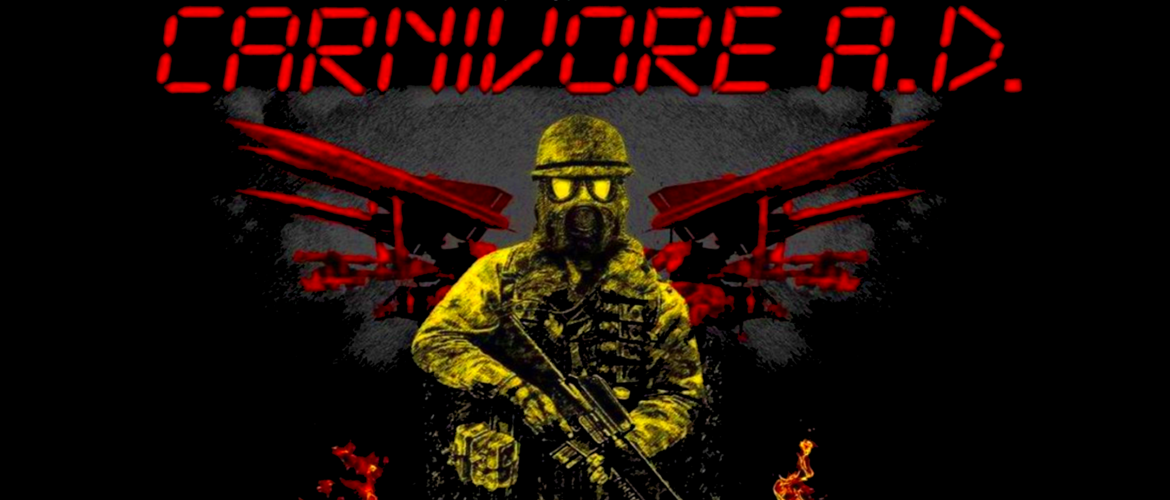 Tickets für
CARNIVORE A.D.

+MORTAL TERROR +PIT VIPER 23.06.23 in Kassel, Goldgrube
Tickets – CARNIVORE A.D.
Kassel
---
Informationen
CARNIVORE A.D. (NYC/USA)
+ MORTAL TERROR
+ PIT VIPER
+ PSOA WARM-UP PARTY !!!!
Dedicated with love and honor to the memories of "Peter Steele" and "Keith Alexander" comes forth the post Armageddon neo barbaric soundscape that is CARNIVORE A.D.Recreating Peter Steele´s brilliant Carnivore/ early Type O Negative reportoire on the stages of venues and festivals the world over.CARNIVORE A.D. features New York City Hardcore/Metal scene veterans: bassist/vocalist "Baron Misuraca" (ex SHEER TERROR/ DARKSIDE NYC), guitarist "Chuck Lenihan (ex CRUMBSUCKERS)ä and drummer "Joe Cangelosi" (ex-KREATOR, MASSACRE, WHIPLASH).Co-formed and fully endorsed by original Carnivore members guitarist Marc Carnivore and drummer Louie Beateux (both of whom have performed with the band numerous occasions) CARNIVORE AD demand you to join them as they thrash, slam and resurrect some serious old school energy - all while paying tribute to their late, great, old cherished friends.After a successful European Tour in 2019 and visits on awesome festivals like HELLFEST, THE SOUND OF THE REVOLUTION, ROCK HARD FESTIVAL, RUHRPOTT METAL MEETING and many more they will celebrate with you all old hits again…"Think of Carnivore AD as a renowned diner establishment where it's Chef passed on years ago but the recipes remain and folks still want to to dine there instead of cooking the Food themselves. And the Chef Pete wouldn't mind because his friends are making it with love" - Louie Beateux (Carnivore)

Als Rahmenprogramm haben wir eine der handverlesenen Warm-up Partys für das diesjährige Party San Open Air 2023 vom 10. bis 12. August in Schlotheim auf dem Flugplatz Obermehler an Land gezogen. Mächtig viel Musik von den PSOA Bands (u.a. Deicide, Kataklysm, Borknagar, Deströyer 666 etc.) umrahmen die Carnivore A.D. Show und mit DJ D.Evil feiert Ihr bis in die frühen Morgenstunden. Als Bonbon wird es dort auch PSOA Devotionalien zu gewinnen geben.Wer nur die Party besuchen will, kann dies ab ca. 23.00 Uhr tun. Der Eintritt für die Party ist 5 Euro, die Party ist im Ticketpreis der Carnivore A.D. Show mit integriert. Party on !!!
Special Guests:
MORTAL TERROR
Kassel's Thrash Metal Institution!!!
https://www.facebook.com/mortalterrormetal
https://mortalterror.bandcamp.com
https://www.youtube.com/user/realmortalterror
PIT VIPER
-Crossover Thrash aus Göttingen-
Als Mosh (Drums), Tobi (Bass), Mikey (Lead Gitarre) und Schneggsche (Vocals) Anfang 2020 Pit Viper gründeten, war schnell klar, wohin die Reise geht:Den eigenen Plattensammlungen entsprechend wurde ein Crossover aus Thrash, Punk und Heavy Metal kreiert, der sich stark an Helden der 80s orientiert.
Messerscharfe Riffs treffen auf treibende Basslinien, Blastbeats und eine herrlich wütende Stimme. Ende 2020 mit Unterstützung von Dirk Grove aufgenommen, wurden im April 2021 mit der EP "The Virus Tapes" vier Songs als eine erste Momentaufnahme veröffentlicht, die zeigt, wofür PIT VIPER steht.
Kurz darauf stießdann Gitarrist Chris zuder Kombo. Mit geeinten Kräftenund einem Licht am Ende des Corona-Tunnels, bereitet man sich nun auf die ersten Auftritte und auf das Debütalbum vor!
Stay tuned and spread the venom!
Facebook:
www.facebook.com/PitViperOfficial
Instagram:
https://www.instagram.com/pitviperofficial
Bandcamp:
https://pitviperofficial.bandcamp.com