29.05.22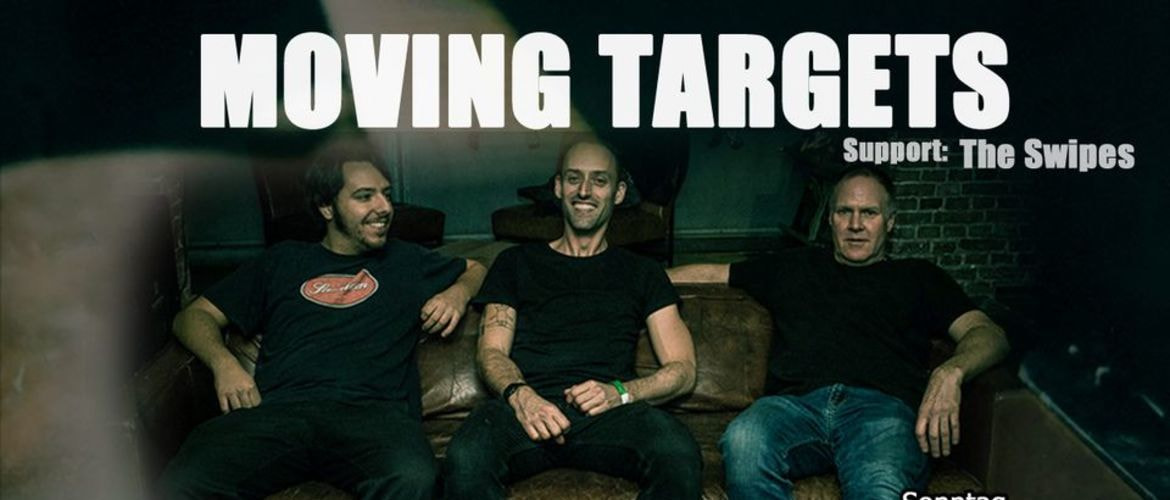 Tickets für
MOVING TARGETS + THE SWIPES

29.05.22 in Kassel, Goldgrube
Tickets – MOVING TARGETS + THE SWIPES
Kassel
---
Informationen
MOVING TARGETS (US)
Boston Punk Rock since 1981 - TAANG Records
Support: THE SWIPES
US Hardcore / Powerpop Legend MOVING TARGETS.
File under: Hüsker Dü, Bullet Lavolta, Lemonheads, Taang Records, Bad Brains, Decendents, Jerrys Kids aber nicht Green Day, ha ha.
Die Band ist "heiss" auf das, was sie von Anfang an auszeichnete: Melodischer Hardcore-Punk dessen Wurzeln irgendwo zwischen dem Mod-Rock der Sixties und frühen Power-Pop-Punk-Melodien liegen. Alles im unverkennbaren Moving Targets Sound.
Die Moving Targets wurden in Boston / USA, in den Hochzeiten der Hardcore-Punk-Szene gegründet, ebneten aber spätestens mit dem Erscheinen ihres Albums "Burning in Water" auf Taang Records ihren eigenen Weg. Fans solcher Bands wie Hüsker Dü, Mission of Burma, Buffalo Tom, The Replacements, The Lemonheads und Bullet Lavolta lieben die Moving Targets. Kein Wunder, denn Kenny Chambers war auch Mitglied der legendären Bullet Lavolta!
Es ist das Songwriting und die Art wie Kenny Chambers seine Gitarre spielt, das jedes Moving Targets Album zu einem Meilenstein macht und nachhaltig unzählige Bands des großen Genre Alternativ-Guitar-Rock beeinflusste. Offene Gitarrenakkorde, melodische Riffs und teils melancholische Texte – angetrieben von energiegeladenen Drums und druckvollen Bass – alles in einer warmen Klangatmosphäre, einzigartig und zeitlos. Crunchy, aber melodischer Hardcore-Punk irgendwo zwischen den Sechzigern, Mod-Rock und frühen Power-Pop-Punk-Hooklines. Heutzutage der Einfachheit halber vermutlich unter "post-punk" gelistet. Alles in Allem: Musik mit einer durchgängig eigenen Qualität!
Als Opener sind THE SWIPES am Start. Melodic-Punk britischer Prägung, verwurzelt im 60er/70er Rock.
Video:
https://youtu.be/YSabnb-pDkY
"Moment Of Silence"
https://youtu.be/dqJ-T9P68ZE
"Youth Of America" live
More videos:
https://truemmerpromotion.com/movingtargets/
Special Guest:
THE SWIPES